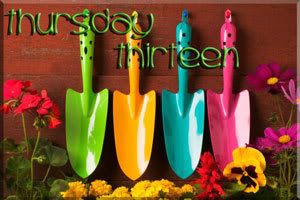 Thirteen Things about MomHuebert




Spring is coming. Even though there's still snow on the ground here, and it's still cold, it feels like Spring. The shadows are different, the air smells spring-y instead of winter-y; there are robins!

I'm not the only one feeling the change of season coming. My friend Ornery's Wife



(who by the way gave me this wonderful award:

Thank you!)


is feeling her oats and planning her garden already, and she wrote a TT about it. After reading her list, I thought I'd like to make my own. So, Wife of Ornery, this list is for you. Let's compare lists!

This year, I'm going to plan my garden backwards. Instead of asking myself, "What do I want to plant?" I'm going to ask "What do I want to eat this summer?"

Well, I want to have a good summer picnic/cookout meal. That means burgers on the grill-- which, of course, I can't grow in the garden-- but I can grow almost everything else.

First, we'll want pickles on the burgers. I love to make our favorite pickle, Russian Dills, so I'll need to plant...

1. Cucumbers



2. Onions



3. and Dill



Well, the dill usually comes up by itself, but it will definitely be in the garden.

Next on the menu, to go with our burgers, will be

4. Corn (On the cob. Of course.)



After the corn, I want to have salad. I'm really looking forward to an enormous salad with any number of wonderful young vegetables in it. Let's start with...

5. Lettuce (a mix of several kinds)




6. and some Spinach



Then let's add...

7. Tomatoes. Tiny pear tomatoes, yum.



8. Zucchini.



9. Peppers



10. Broccoli


And it might be nice to have some chips and salsa, so let's plant salsa makings:

11. Tomatoes



12. Peppers. Both sweet and hot.



13. Onions



Oh-- and we have to have potatoes! I think I'll cut them in chunks, cover them with seasoning, stick the chunks on skewers, and grill them:

14. Potatoes



Well, gee. I'm full already. I guess I'll have to save for another meal the green beans, the beets, and the carrots. Oh, and the pumpkins. And the marigolds. Wait. Marigolds?

So what's growing in YOUR garden?


P.S. All pictures courtesy of Gurney's and Henry Fields.


Get the Thursday Thirteen code here!


The purpose of the meme is to get to know everyone who participates a little bit better every Thursday. Visiting fellow Thirteeners is encouraged! If you participate, leave the link to your Thirteen in others comments. It's easy, and fun! Trackbacks, pings, comment links accepted!

View More Thursday Thirteen Participants