Today I want to do something new and feature some cute clothes that have caught my eye lately. If I can't actually buy stuff, I can pretend, right?

1. I love this motorcycle sweater jacket from Banana Republic: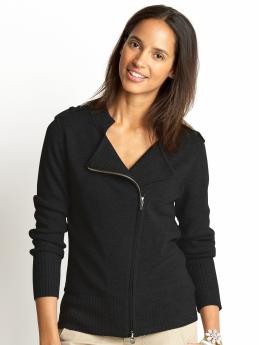 I like the slightly asymmetrical zipper, the wide collar, and the odd twist of a motorcycle jacket made of merino. (Or else the odd twist of a merino wool sweater made to look like a motorcycle jacket.) I could see myself wearing this around the house, as well as out running errands, with jeans and boots.

2. For a dressy occasion, I'd love to try this Boucle sheath from Talbots. Not that I know what "boucle" is but I'd like to try it.





















3. I also like this faux wrap dress. Although I don't know why I look at, and long for, dresses, when right now I have very few occasions which call for a dressy dress. Howsomenever, I STILL wish for a quintessential Little Black Dress.




















If the neckline turned out to be a little low, I would wear a cute camisole underneath, either in silver gray, for sophistication, or in red or bright pink, for a "pop" of color.

4. This long-sleeved v-neck tee looks soft and durable and very useful:



















5. This shoulder-gathered tee also catches my eye, but I'd have to try it on to find out if it camouflaged or accentuated my already fairly hefty shoulders. I don't want to look like a football player!



















6. And these Fidji shoes would be so cute for spring and summer:















7. Speaking of shoes, I love the look of these booties for knocking around in:
















8. And finally, I want a pair of dark gray pants, probably fairly skinny and fitted, either denim, or corduroy, or even some sort of heavy knit. (But not double knit, heavens, no.) I have no picture because I haven't found any yet that I like. Any suggestions?